Local author introduces newest books in mystery series
Friday, 09 February 2018 20:01
Local author Kathleen (Kathi) Thompson of Star City will introduce her most recent books to Pulaski County readers with a book signing event at the Pulaski County Public Library. She will be available to speak to individuals and sign books on Wednesday, March 7, from 3 until 6 p.m.
Thompson, retired from a career in criminal justice and social services, debuted her first novel in the series, Tiger Lily's Café, in 2014. The series now contains 10 volumes. Turtle Soup, Boo!, Phishing, Holiday, A Rock And A Hard Place, Splash, Chasing A Butterfly, Pumpkin Squash, Snowblind, and Hearts On Fire. All volumes will be available.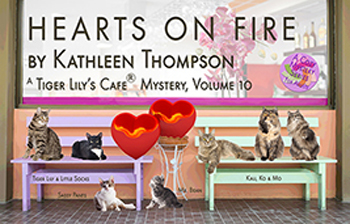 Tiger Lily's Café is a cozy mystery series. Cozies, by definition, are written with humor, have happy endings, and follow certain literary rules. Murder can happen, but it happens "off the page." This is murder without gore. Relationships can happen, but "off the page." Ergo, relationships without sex. Cozies maintain a distance from vulgarity. Written for adults, most cozies can be enjoyed by teenagers without worry on the part of parents.
Every cozy has an amateur detective. In this series, the amateurs are the feline and canine characters. They have the ability to figure out "who done it." Their humans don't speak 'cat,' so they are forced to come up with creative ways to get clues in front of the Chief of Police.
Set in a resort community on the sunset coast of a Great Lake, the series features a woman surrounded by friends and fellow business owners. She fell into ownership of several businesses, all run capably by managers who have become her friends. In effect, she lives an idyllic lifestyle. Her talented cats spend time in her many businesses and are in a position to hear everything. One such business, Tiger Lily's Café, is the unofficial gathering place for locals and tourists alike.
Each book in the series contains two or three mysteries that will keep you guessing until near the end of the book. The series also brings insight into the minds of those four-footed creatures that own us.
The books are available in print, Kindle, Nook and ePub. Links to each version can be found on the website:www.tigerlilyscafe.com.