Frain Mortuary helps support Honor Flight Network
Wednesday, 31 January 2018 23:42
PEKIN, Ill. - Frain Mortuary, a local Pekin Insurance pre-need agency in Pulaski County, is honoring those who served in the U.S. military by supporting the Honor Flight Network which honors American veterans for their sacrifices.
Frain Mortuary participated in the annual Tour of Honor contest, sponsored by Pekin Insurance.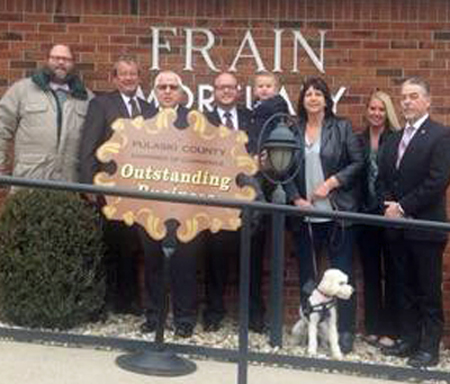 Frain Mortuary was also recently named the Outstanding Business of the Quarter by the Pulaski County Chamber of Commerce.
For every life insurance application submitted, money was donated to the Honor Flight Network which transports veterans to Washington, D.C. to visit and reflect at the war memorials. The insurance agency notes this is a small tribute to those who gave so much. Thanks to the combined efforts of the Pekin Insurance independent agency force, the company has donated $20,000 to this cause.
Frain Mortuary, Pekin Insurance and its other independent agencies thank the men and women who made the sacrifice and commitment to fight for the freedom and safety of the country.
Frain Mortuary also supports other local veteran efforts, including:
Winamac VFW
Winamac, Francesville and Monterey American Legions
Pulaski County Quilts of Valor
Benefits assistance to families of any deceased veteran in Pulaski County
In business since 1921, Pekin Insurance offers multiple lines of insurance in Arizona, Illinois, Indiana, Iowa, Ohio and Wisconsin and is represented by nearly 1,500 independent agencies and over 500 pre-need agencies.
Frain Mortuary can assist anyone interested with pre-need insurance.
Visit www.pekininsurance.com to find out more about a company that provides long-term security for its policyholders. Visitors may also sign up for the company eNewsletter. The company may also be found on Facebook, Twitter, Instagram, LinkedIn and Pinterest.