CFPC to participate in #GivingTuesday Nov. 28
Friday, 10 November 2017 23:46
Community Foundation of Pulaski County (CFPC) will participate in #GivingTuesday for the third year in a row, encouraging giving back to the communities we live and work in.
Occurring this year on Nov. 28, the annual day of giving is held each year on the Tuesday after Thanksgiving and the shopping events of Black Friday and Cyber Monday.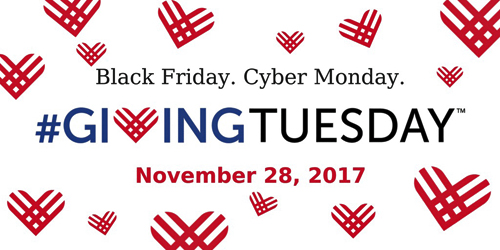 "The Community Foundation is committed to growing funds to serve our communities and fostering philanthropy. We encourage participation in #GivingTuesday so that businesses, organizations, and individuals can participate in a collective effort and support our community at the same time," said Community Foundation president Greg Malott.
CFPC will encourage giving to Community Grants and the Community Foundation Scholarship.
Community Grant funds were responsible for $50,000 in place-making project grants around the county this year. Video clips featuring the projects will be featured on social media and the CFPC website. The Community Foundation Scholarship was created by the Board of Directors in 2014 and awards two scholarships to Pulaski County seniors each year, one from each county high school.
"Enhancing these funds will enable greater support for both our community and local youth," stated Wendy Rose, CFPC executive director.
To become a #GivingTuesday donor, a gift of any size for Community Grants or Community Foundation Scholarship must be made on Tuesday, Nov. 28. Donations may be made online or delivered in person. An open house will be held on the east and west sides of the county for donors and visitors to enjoy holiday treats and celebrate the start of the giving season. Visit the CFPC website at www.cfopc.org or Facebook page for more details.
#GivingTuesday utilizes the power of social media to help create a global movement dedicated to giving around the world. Information about the #GivingTuesday movement can be found at www.givingtuesday.org, facebook.com/GivingTuesday, or follow the #GivingTuesday hashtag on Twitter.