Pulaski Sheriff's deputy recognized for life-saving action
Tuesday, 03 October 2017 19:28
Sgt. Frederick Rogers of the Pulaski County Sheriff's Office was recognized Tuesday (Oct. 3) by the U.S. Department of Justice, U.S. Attorney's Office, for his actions last month that saved a victim of the opioid epidemic.
The incident occurred Sept. 15, as Rogers was returning from a training event in Indianapolis, hosted by the U. S. Attorney's Office.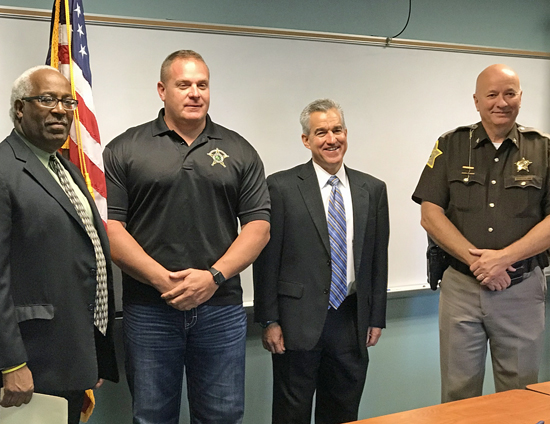 While traveling northbound on SR 39, near the area of SR 26, in Clinton County, Rogers came upon a motor vehicle crash where two good Samaritans were assisting an unresponsive male subject from a vehicle which had collided with a guardrail. Rogers approached the victim with his Automated External Defibrillator (AED) to assist the subject.
Rogers observed the male victim to be unresponsive and observed signs consistent with an overdose. Rogers returned to his vehicle to retrieve his issued nasal Narcan which he subsequently administered to the male subject. Rogers administered two doses of nasal Narcan which resulted in the victim becoming responsive prior to the arrival of first responders, EMS personnel or law enforcement.
The man was later transported from the scene for further medical treatment and the investigation was conducted by the Clinton County Sheriff's Office.
The award states Rogers' recognition of the symptoms along with the rapid deployment of Narcan, during an atypical situation where Narcan is not readily available, showed Rogers' dedication to the people of the State of Indiana. The U.S. Attorney's Office for the Northern and Southern Districts of Indiana commend Rogers for his tireless efforts in keeping communities safe.
Rogers was presented the award by Acting U.S. Attorney, Northern District of Indiana Clifford D. Johnson and U.S. Attorney, Southern District of Indiana Josh Minkler.