4-H project champions named
Tuesday, 04 July 2017 22:07
Updated
Here are the results from 4-H exhibit judging at the 2017 Pulaski County 4-H & Community Fair.
Over 350 youth in Pulaski County participate in the 4-H program.
PULASKI COUNTY 4-H EXHIBIT CHAMPIONS 2017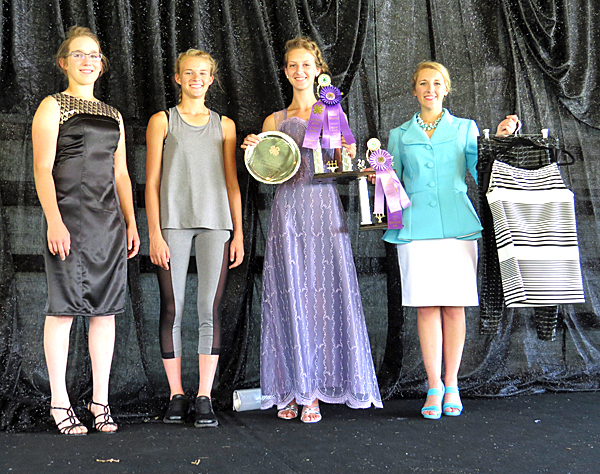 Michaela Cook was named the grand champion of the 2017 Revue with her champion formal gown. Reserve grand champion was Regan Culp (right) for her coat entry. She was also champion in the informal/casual wear category. Fellow senior division champions were Kassi Dahn (left), the dress-up champion and Blake Bailey, champion in the free choice category.
AEROSPACE
Champion Level 2, Stage 3: Brendan Day
BICYCLE
Champion Level 1: Aidan Smith
Champion Level 3: Andriana Smith
Grand Champion: Aidan Smith
Reserve Grand Champion: Andriana Smith
BOOKS
Champion Level A: Adam Stimson
Reserve Champion Level A: Corrin Combs
Champion Level C: Natalie Kennedy
Reserve Champion Level C: Jenna Bolen
Grand Champion: Natalie Kennedy
Reserve Grand Champion: Adam Stimson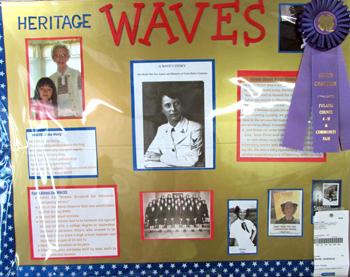 CAT SHOW
Junior Champion Cat: Alana Kasten w/Princess
Intermediate Champion Cat: Miranda Thompson w/Tom
Reserve Champion: Jaden Cords w/Willow
Senior Champion Cat: Jenna Cords w/Artie
Reserve Champion Cat: Andriana Smith w/Tator Tot
Grand Champion Cat: Jenna Cords
Reserve Grand Champion: Alana Kasten
CHILD DEVELOPMENT
Champion Level A: Sydney Mellon
Champion Level B: Evelyn Libey
Champion Level C: Natalie Kennedy
Reserve Champion Level C: Jasmine Felda
Champion Level D: Peyton Newman
Grand Champion: Peyton Newman
Reserve Grand Champion: Sydney Mellon
CHRISTMAS ORNAMENTS
Champion Level A: Chloe Felda
Champion Level B: Kirsten Calloway
Reserve Champion Level B: Mckenzie Mitchell
Champion Level C: Makayla Felda
Reserve Champion Level C: Jasmine Felda
Grand Champion: Kirsten Calloway
Reserve Grand Champion: Makayla Felda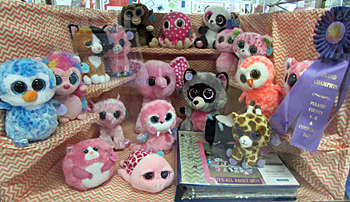 COLLECTIONS
Champion Level A: Kelsey Wegner
Reserve Champion Level A: Maisie Toosley
Champion Level B: Ashlynn Jennings
Reserve Champion Level B: Taylor Ringen
Champion Level C: Jasmine Felda
Reserve Champion Level C: Megan Stimson
Champion Level D: Bryce Gunter
Reserve Champion Level D: Shania Howard
Grand Champion: Ashlynn Jennings
Reserve Grand Champion: Kelsey Wegner
COMPUTERS
Champion Level 1: Mason Istre
Grand Champion: Mason Istre
COMPUTER ARTS
Champion Level 1: Kyle Gibson
Champion Level 3: Bryan Bathke
Grand Champion: Bryan Bathke
Reserve Grand Champion: Kyle Gibson
MODEL CRAFT
Champion Level 1: Maddox Vandokkenburg
Reserve Champion Level 1: Brooke Rausch
Grand Champion: Maddox Vandokkenburg
Reserve Grand Champion: Brooke Rausch
NEEDLECRAFT
Champion Level 3: Andria Johns
Grand Champion: Andria Johns
ANY OTHER CRAFT
Champion Level 1: Gracelyn Turnpaugh
Reserve Champion Level 1: Evelyn Libey
Champion Level 2: Nathan Thompson
Reserve Champion Level 2: Miranda Thompson
Champion Level 3: Hailey Jones
Reserve Champion Level 3: Jenna Zeider
Grand Champion: Nathan Thompson
Reserve Grand Champion: Hailey Jones
CREATIVE WRITING
Champion Advanced: Jenna Bolen
Reserve Champion Advanced: Natalie Kennedy
Grand Champion: Jenna Bolen
Reserve Grand Champion: Natalie Kennedy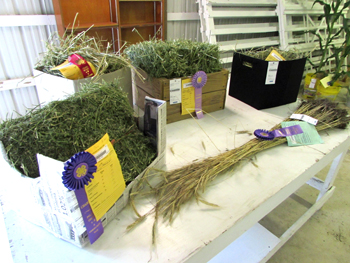 CROPS
Champion Corn: Nathan Thompson
Reserve Champion Corn: Taylor Perry
Grand Champion Corn: Nathan Thompson
Reserve Grand Champion: Taylor Perry
Champion Soybean: Kaelan Baker
Reserve Champion Soybean: Taylor Perry
Grand Champion Soybean: Kaelan Baker
Reserve Grand Champion: Taylor Perry
Champion Alfalfa/Hay: Keegen Reinhold
Reserve Champion Alfalfa/Hay: Taylor Perry
Grand Champion Hay: Keegen Reinhold
Reserve Grand Champion Hay: Taylor Perry
Champion Small Grains: Keegen Reinhold
Grand Champion Small Grains: Keegen Reinhold
DO YOUR OWN THING
Champion Level 1: Avery Wegner
Reserve Champion Level 1: Eli Wildermuth
Champion Level 2: Braeden Linhart
Reserve Champion Level 2: Danyel Stalbaum
Champion Level 3: Makayla Felda
Reserve Champion Level 3: Jasmine Felda
Grand Champion: Braeden Linhart
Reserve Grand Champion: Makayla Felda
DOG SHOW
Grand Champion Dog Show: Hailey Sanders
Reserve Grand Champion: Madonna Twellman
Obedience
Grand Champion: Shania Hartman
Reserve Grand Champion: Shelby Allen
Division 1A Champion: Avery Wegner
Reserve Champion 1A: Sierra Haschel
Honor: Dane Lindvall
Division 1B Champion: Shania Hartman
Reserve Champion 1B: McKenzie Mitchell
Division 2A Champion: Madonna Twellman
Reserve Champion 1B: Robby Betcher
Honor: Caroline Niewiadomski
Division 2B Champion: Kali Haschel
Reserve Champion 2B: Kolby Wegner
Honor: Kelsey Wegner
Division 3A Champion: N/A
Division 3B Champion: Hailey Sanders
Veteran Division Champion: Shelby Allen
Reserve Champion Veteran: Elizabeth Kasten
Agility
Beginner A Champion: Elizabeth Kasten
Beginner A Reserve: Madyson Kasten
Beginner B Champion: Robby Betcher
Beginner B Reserve: Kolby Wegner
Intermediate Champion: Madonna Twellman
Intermediate Reserve: Kali Haschel
Veterans Champion: Danni-Jo Rausch/ Elizabeth Kasten
Dog Showmanship
Junior Champion: Elizabeth Kasten
Reserve Champion: Savannah Hoover
Honor: Robby Betcher
Intermediate Champion: Madonna Twellman
Reserve Champion: Shelby Allen
Honor: Madysen Kasten
Senior Champion: Hailey Sanders
Reserve Champion: Jaylynn Hall
Honor: Shania Hartman
Grand Champion: Madonna Twellman
Reserve Grand Champion: Hailey Sanders
Leader's Choice
Most Improved: Marissa Perry & Savannah Hoover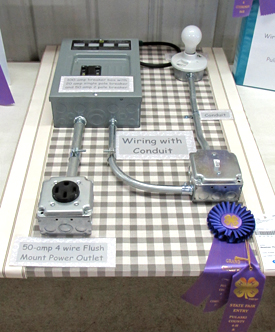 ELECTRIC
Champion Division 1: Cohen Mellon
Champion Division 2: Adam Stimson
Reserve Champion Division 2: Collin Stalbaum
Champion Division 3: Austin Bolen
Reserve Champion Division 3: Sawyer DePoy
Champion Division 4: Audrey Kroft
Champion Division 5 & Advanced 1 Non-electronic: Peyton Newman
Reserve Champion Division 5 & Advanced 1 Non-electronic: Miranda Thompson
Champion Division 5 & Advanced 1 Electronic Equipment: Kassandra Dahn
Grand Champion: Peyton Newman
Reserve Grand Champion: Miranda Thompson
ENTOMOLOGY
Champion Level 2 Poster: Audrey Kroft
Grand Champion: Audrey Kroft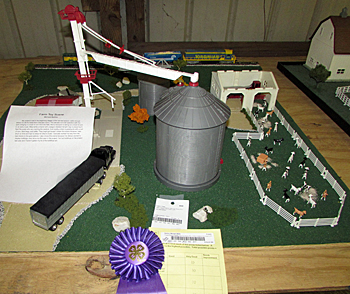 FARM TOY SCENE
Champion Level A: Keegen Reinhold
Reserve Champion Level A: Westin Kelsey
Champion Level B: Logan Schultz
Reserve Champion Level B: Paul Bauman
Champion Level C: Michael Bathke
Reserve Champion Level C: Jenna Cords
Grand Champion: Michael Bathke
Reserve Grand Champion: Keegen Reinhold
FASHION REVUE
Junior Division
Champion Grade 5: Brie Leman
Reserve Champion Grade 5: Mason Istre
Champion Grade 6: Haylee Patton
Reserve Champion Grade 6: Alison Grothaus
Champion Grade 7: Joanna Miller
Reserve Champion Grade 7: Kelsey Conner
Grand Champion: Brie Leman
Reserve Grand Champion: Joanna Miller
Senior Division
Champion Dress Up: Kassi Dahn
Reserve Champion Dress Up: Taylor Jennings
Champion Formals: Michaela Cook
Champion Free Choice: Blake Bailey
Champion Casual/Informal: Regan Culp
Champion Suits & Coats: Regan Culp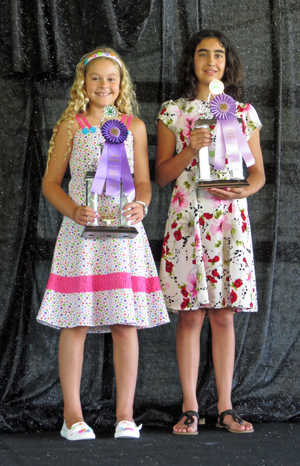 Grand Champion: Michaela Cook-Formal
Reserve Grand Champion: Regan Culp-Coat
Sewing
Construction Non-Wearable Junior Division
Champion Grade 3: Sydney Mellon
Champion Grade 4: Corrin Combs
Champion Grade 5: Ashlynn Jennings
Reserve Champion Grade 5: Brooklynn Mellon
Champion Grade 6: Alison Grothaus
Champion Grade 7: Kelsey Conner
Grand Champion: Ashlynn Jennings
Reserve Grand Champion: Brooklynn Mellon
Construction Wearable Junior Division
Champion Grade 5: Mason Istre
Reserve Champion Grade 5: Brie Leman
Champion Grade 6: Summer Budka
Reserve Champion Grade 6: Haylee Patton
Champion Grade 7: Kirsten Calloway
Reserve Champion Grade 7: Mckenzie Mitchell
Grand Champion: Kirsten Calloway
Reserve Grand Champion: Mason Istre
Construction Wearable Senior Division
Champion Informal/Casual: Regan Culp
Champion Dress Up: Kassi Dahn
Reserve Champion Dress Up: Makayla Libey
Champion Suit/Coat: Regan Culp
Champion Formal Wear: Michaela Cook
Champion Free Choice: Blake Bailey
Grand Champion: Blake Bailey-Free Choice
Reserve Grand Champion: Regan Culp-Informal/Casual
Consumer Clothing
Champion Beginner: Sydney Mellon
Champion Intermediate: Kelsey Conner
Champion Advanced: Peyton Newman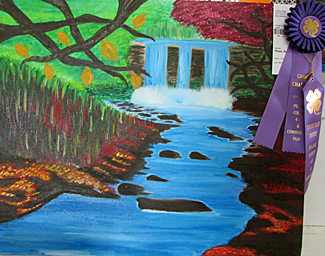 FINE ARTS
Champion Level 2: Mercy Wuethrich
Champion Level 3: Rachel Ploss
Reserve Champion Level 3: Regan Culp
Grand Champion: Rachel Ploss
Reserve Grand Champion: Mercy Wuethrich
FLOWERS
Champion Level C Terrarium: Kelsey Conner
Reserve Champion Level C Terrarium: Taylor Perry
Champion Level C Corsage/Boutonniere with fresh flowers: Kirsten Calloway
Reserve Champion Level C Corsage/Boutonniere with fresh flowers: Claire Conner
Champion Level D Centerpiece for event: Jordan Hopkins
Champion Level D Poster/Notebook: Andriana Smith
Reserve Champion Level D Poster/Notebook: Elizabeth Button
Grand Champion:Jordan Hopkins
Reserve Grand Champion:Kirsten Calloway
FOODS
Level A & B
Champion Grade 3: Sydney Mellon
Reserve Champion Grade 3: Gracelyn Scheeringa
Champion Grade 4: Adam Stimson
Champion Grade 5: Max Scholz
Reserve Champion Grade 5: Brooklynn Mellon
Champion Grade 6: Zachary Cook
Reserve Champion Grade 6: Alison Grothaus
Grand Champion Level A & B: Sydney Mellon
Reserve Grand Champion Level A & B: Zachary Cook
Level C (Grades 7-9)
Champion Yeast Bread Sticks or Rolls: Emma Nielson
Reserve Champion Yeast Bread Sticks or Rolls: Kirsten Calloway
Champion Yeast Bread: Megan Wentz
Reserve Champion Yeast Bread: Isaiah Cook
Level D (Grades 10-12)
Champion Fruit Pie: Danni-Jo Rausch
Reserve Champion Fruit Pie: Samantha Burns
Champion Baked Special Dietary Product: Andriana Smith
Grand Champion Level C & D: Megan Wentz
Reserve Grand Champion Level C & D: Andriana Smith
Preserved Foods
Level A & B
Champion Grade 3: Sydney Mellon
Champion Grade 5: Brooklynn Mellon
Grand Champion Level A & B: Sydney Mellon
Reserve Grand Champion Level A & B: Brooklyn Mellon
Level C (Grades 7-9)
Champion Freezer Jam: Megan Stimson
Reserve Champion Freezer Jam: Claire Conner
Champion Canned Pickle Product: Parker Burns
Reserve Champion Canned Pickle Product: Kelsey Conner
Champion Pressure Canned Product: Emma Hoover
Level D (Grades 10-12)
Champion Frozen Entrée: Shania Howard
Champion Cooked Jam: Hailey Jones
Reserve Champion Cooked Jam: Jill Zehner
Grand Champion Level C & D: Megan Stimson
Reserve Grand Champion Level C & D: Emma Hoover
Baking With A Box
Level A
Champion Grade 3: Mylie Foster
Champion Grade 4: Adam Stimson
Reserve Champion Grade 4: Maddie Foster
Level B
Champion Grade 5: Olivia Browning
Champion Grade 6: Alison Grothaus
Level C
Champion Grade 7: Megan Stimson
Reserve Champion Grade 7: Kirsten Calloway
Champion Grade 8: Taylor Perry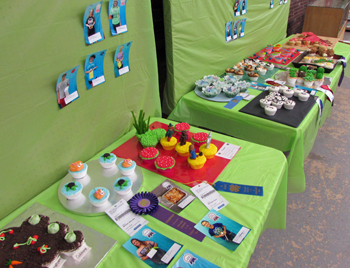 Level D
Champion Grade 12: Sydney Tripenfeldas
Grand Champion: Megan Stimson
Reserve Grand Champion: Adam Stimson
Microwave Cooking
Level C
Champion Grade 7: Megan Stimson
Champion Grade 9: Schyler Knebel
Level D
Champion Grade 10: Samantha Burns
Champion Grade 11: Emma Hoover
Champion Grade 12: Jill Zehner
Grand Champion: Jill Zehner
Reserve Grand Champion: Schyler Knebel
Cake Decorating
Champion Beginner: Elizabeth Kasten
Champion Intermediate: Megan Stimson
Champion Advanced: Katie Culp
Wilton Cake Champion Best of Show and Grand Champion: Katie Culp
Reserve Grand Champion: Elizabeth Kasten
Cupcake Decorating
Champion Beginner: Corrin Combs
Champion Intermediate: Mckenzie Mitchell
Reserve Champion Intermediate: Brenna Day
Champion Advanced: Shailyn Day
Grand Champion: Shailyn Day
Reserve Grand Champion: Corrin Combs
FORESTRY
Champion Level 3: Jasmine Felda
Reserve Champion Level 3: Makayla Felda
Grand Champion: Jasmine Felda
Reserve Grand Champion: Makayla Felda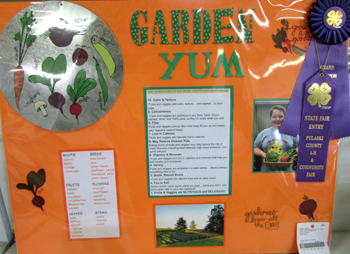 GARDEN
Single Vegetable
Champion with Cucumber: Taylor Perry
Champion with Banana Peppers: Aidan Smith
Grand Champion Single Vegetable: Taylor Perry
Reserve Grand Champion Single Vegetable: Aidan Smith
Single Herb
Champion with Oregano: Jordan Hopkins
Champion with Sage: Kelsey Conner
Champion with Mint: Emily Field
Reserve Champion with Mint: Eva Martinez
Grand Champion Herb: Emily Field-Mint
Reserve Grand Champion Herb: Jordan Hopkins-Oregano
Vegetable Collections
Champion 3 Plate: Eva Martinez
Champion 4 Plate: Emmanuel Martinez
Grand Champion Vegetable Collections: Eva Martinez
Reserve Grand Champion Vegetable Collections: Emmanuel Martinez
Garden Educational Exhibit
Champion Level A: Eva Martinez
Champion Level B: Aidan Smith
Champion Level C: Makayla Libey
Reserve Champion Level C: Emmanuel Martinez
Grand Champion Educational Exhibit: Aidan Smith
Reserve Grand Champion Educational Exhibit: Makayla Libey
GENEALOGY
Champion Division 1: Corrin Combs
Grand Champion: Corrin Combs
GEOLOGY
Champion Level 1: Mason Istre
Champion Level 2: Brendan Day
Champion Level 3: Jenny Budd
Champion Level Independent Study: Andriana Smith
Grand Champion: Jenny Budd
Reserve Grand Champion: Andriana Smith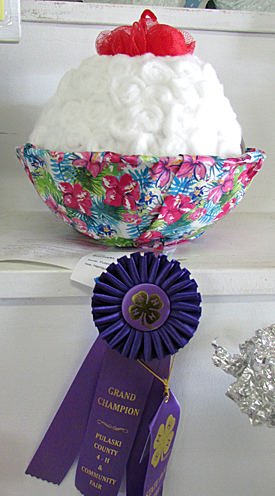 GIFT WRAPPING
Champion Level B, Grade 7: Keira Bucinski
Reserve Champion Level B, Grade 7: Brenna Day
Champion Level C, Grade 9: Shailyn Day
Champion Level C, Grade 10: Danni Jo Rausch
Champion Level C, Grade 12: Hailey Jones
Grand Champion: Keira Bucinski
Reserve Grand Champion: Hailey Jones
HEALTH
Champion Level A: Adam Stimson
Champion Level B: Brenna Day
Reserve Champion Level B: Megan Stimson
Champion Level C: Andriana Smith
Reserve Champion Level C: Shailyn Day
Grand Champion: Andriana Smith
Reserve Grand Champion: Brenna Day
HERITAGE
Champion Intermediate: Megan Wentz
Reserve Champion Intermediate: Andalicia Bettcher
Champion Advanced: Andriana Smith
Grand Champion: Andriana Smith
Reserve Grand Champion: Megan Wentz
HOME ENVIRONMENT
Champion Level 1: Ashlynn Jennings
Champion Level 2: Kelsey Conner
Champion Level 3: Jenna Cords
Reserve Champion Level 3: Taylor Jennings
Grand Champion: Kelsey Conner
Reserve Grand Champion: Ashlynn Jennings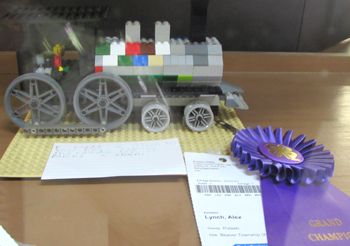 LEGOS
Champion Level A: Alex Lynch
Reserve Champion Level A: Maddox Vandokkenberg
Champion Level B: Isaiah Cook
Reserve Champion Level B: Zachary Cook
Champion Level C: Michael Bathke
Reserve Champion Level C: Ryan Lynch
Grand Champion: Alex Lynch
Reserve Grand Champion: Isaiah Cook
PERSONALITY
Champion Level C: Keira Bucinski
Grand Champion: Keira Bucinski
PET/LIVESTOCK POSTERS
Cat Poster
Champion Level 3: Andriana Smith
Reserve Champion Level 3: Jordan Hopkins
Grand Champion: Andriana Smith
Reserve Grand Champion: Jordan Hopkins
Dog Poster
Champion Level 1: Aidan Smith
Champion Level 2: Megan Stimson
Champion Level 3: Andriana Smith
Grand Champion: Andriana Smith
Reserve Grand Champion: Aidan Smith
Horse & Pony Poster
Champion Level 2: Andalicia Bettcher
Grand Champion: Andalicia Bettcher
Livestock Poster
Champion Level C: Shania Hartmann
Grand Champion: Shania Hartmann
Poultry Poster
Champion Intermediate: Mario Martinez
Champion Senior: Emma Hoover
Reserve Champion Senior: Jordan Hopkins
Grand Champion: Emma Hoover
Reserve Grand Champion: Mario Martinez
Rabbit Poster
Champion Level 3 Senior: Jordan Hopkins
Grand Champion: Jordan Hopkins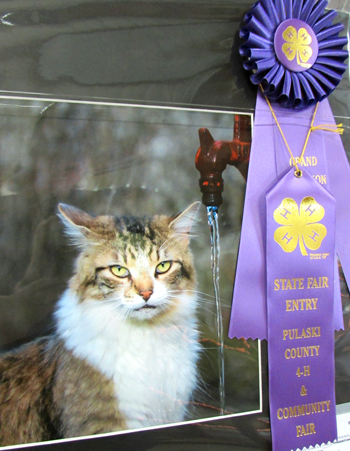 PHOTOGRAPHY
Champion Level 1, Black and White Prints: Chloe Felda
Reserve Champion Level 1, Black and White Prints: Lily Button
Champion Level 1, Color Prints: Chloe Felda
Reserve Champion Level 1, Color Prints: Elizabeth Kasten
Champion Level 2, Color Prints: Lauren Powers
Reserve Champion Level 2, Color Prints: Shayla Ringen
Champion Level 2, Color Salon Print: Jaden Cords
Reserve Champion Level 2, Color Salon Print: Megan Stimson
Champion Level 2, Black & White Salon Print: Jaden Cords
Reserve Champion Level 2, Black & White Salon Print: Brenna Day
Champion Level 3, Color Prints: Keegan Doughty
Reserve Champion Level 3, Color Prints: John Rumsey
Champion Level 3, Color Salon Print: Jenna Cords
Reserve Champion Level 3, Color Salon Print: Hailey Jones
Champion Level 3, Black & White Salon Print: Natalie Kennedy
Reserve Champion Level 3, Black & White Salon Print: Emily Field
Grand Champion: Jaden Cords-Color Salon
Reserve Grand Champion: Natalie Kennedy-Black & White Salon
PUBLIC SPEAKING
Champion Senior Public Speaking: Rachel Ploss
Champion Senior Informative 4-H Presentation: Ethan Shannon
Champion Junior Demonstration: Megan Stimson
Grand Champion overall: Rachel Ploss
RC CARS
Champion Junior Poster: Logan Fredel
Reserve Champion Junior Poster: Megan Stimson
Champion Senior Poster: Francine Coffer
Grand Champion: Francine Coffer
Reserve Grand Champion: Logan Fredel
RC CAR RACE
Senior Race
1st Place Grand Champion – AJ Ruff
2nd Place Reserve Grand Champion – Shania Howard
3rd Place Champion – Francine Coffer
Junior Race 1 Winners
1st Place Grand Champion – Parker Zeider
2nd Place Reserve Grand Champion – Kyle Gibson
3rd Place Champion – Ben Boardman
4th Place – Blue – Adam Stimson
Junior Race 2 Winners
1st Place Grand Champion – Brent Boardman
2nd Place Reserve Grand Champion – Logan Fredel
3rd Place Champion – Megan Stimson
4th Place – Blue – Kaleb Kovach
RECYCLING
Champion Level A: Chloe Felda
Champion Level B: Shayla Ringen
Reserve Champion Level B: Brenna Day
Champion Level C: Jasmine Felda
Reserve Champion Level C: Makayla Felda
Grand Champion: Jasmine Felda
Reserve Grand Champion: Chloe Felda
SCRAPBOOKING
Champion Level A: Taylor Kelsey
Champion Level B: Brenna Day
Reserve Champion Level B: Haylee Patton
Champion Level C: Samantha DePoy
Reserve Champion Level C: Hailey Jones
Grand Champion: Samantha DePoy
Reserve Grand Champion: Hailey Jones
SHOOTING SPORTS
Champion Level A: Maddox Vandokkenberg
Reserve Champion Level A: Collin Stalbaum
Champion Level B: Danyel Stalbaum
Reserve Champion Level B: Kolbey Wegner
Champion Level C: Ryan Smith
Reserve Champion Level C: Konlan Davis
Grand Champion: Danyel Stalbaum
SMALL ENGINES
Champion Level A: Adam Stimson
Reserve Champion Level A: Mason Istre
Grand Champion: Adam Stimson
Reserve Grand Champion: Mason Istre
SOIL & WATER SCIENCE
Champion Level B: Brendan Day
Champion Level C: Emmanuel Martinez
Grand Champion: Brendan Day
Reserve Grand Champion: Emmanuel Martinez
SPORTS
Champion Level A: Aidan Smith
Reserve Champion Level A: Kyle Gibson
Champion Level B: Megan Wentz
Reserve Champion Level B: Keira Bucinski
Champion Level C: Andriana Smith
Reserve Champion Level C: Shailyn Day
Grand Champion: Andriana Smith
Reserve Grand Champion: Aidan Smith
SPORTFISHING
Champion Level 1: Aidan Smith
Grand Champion: Aidan Smith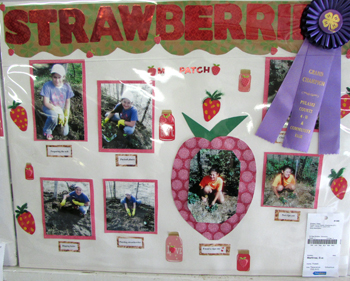 STRAWBERRIES
Champion Level A: Eva Martinez
Champion Level B: Kirsten Calloway
Champion Level C: Andriana Smith
Reserve Champion Level C: Carle Watkins
Grand Champion:Eva Martinez
Reserve Grand Champion: Andriana Smith
Reserve Grand Champion: Kolbey Wegner
TRACTOR
Champion Level B: Aidan Smith
Reserve Champion Level C: Valerie Field
Reserve Champion Level D: Emily Field
Grand Champion: Aidan Smith
VETERINARY SCIENCE
Champion Level 1: Eva Martinez
Champion Level 3: Peyton Newman
Reserve Champion Level 3: Sarah Keller
Grand Champion: Peyton Newman
Reserve Grand Champion: Sarah Keller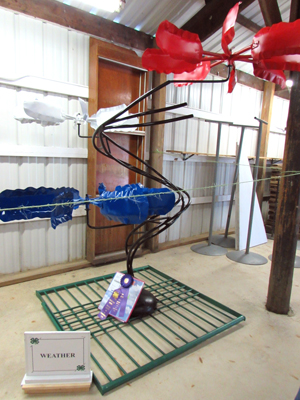 WEATHER
Champion Level 1: Mason Istre
Champion Level 3: Evelyn Davis
Reserve Champion: Andriana Smith
Grand Champion: Evelyn Davis
Reserve Grand Champion: Andriana Smith
WILDLIFE
Champion Level A: Aidan Smith
Reserve Champion Level A: Marissa Perry
Champion Level B: Brendan Day
Reserve Champion Level B: Sawyer DePoy
Champion Level C: Samantha DePoy
Grand Champion: Brendan Day
Reserve Grand Champion: Aidan Smith
WOODWORKING
Champion Level 2: Quinn Huber
Reserve Champion Level 2: Chase Keller
Champion Level 3: Jasmine Felda
Reserve Champion Level 3: Carter Field
Grand Champion: Quinn Huber