Indian Trails Career Cooperative holds awards banquet
Monday, 15 May 2017 14:49
MONTICELLO - Area business partners were recognized with awards recently at the annual Indian Trails Awards Banquet.
Jim Stradling, director of Indian Trails Career Cooperative, said, "Business partners are a vital link to career and technical education students in area high schools. Business partners provide a variety of opportunities such as work based learning experiences, tours, donations, technical assistance and advice."
Awards were presented as follows:
2016-17 Business Partners of the Year
Carroll: Myers Spring-Jim Parsons, Tony Blades & Todd Miller nominated by Tyler Sausaman
Delphi: Ricoh-Dennis Kiefer nominated by Leslie Pickering
Frontier: Custom Select Catering-Janelle Kennedy nominated by Melissa Culver-Pekny
Kankakee Valley: Jasper County Farm Bureau-Daryl King Nominated by Jennifer Fase
North Newton: Mel's Downtown-Mel Novack nominated by Barb Blasco
North White: BioTownAg-Brian Furrer nominated by David Addison
Rensselaer Central Franciscan Health-Brandi Murray & Carlos Vasquez nominated by Brenda Mattocks
South Newton: Newton County Purdue Extension-Danielle Sands nominated by Darrell Allen
Tri-County: Remington Farms-Quinten Overbeck nominated by Travis Scherer
Twin Lakes: Scoreboard-Susan Manahan nominated by Scott Billings
West Central: Parkview Haven Retirement Community-Sharon Rigg nominated by Jennifer Johns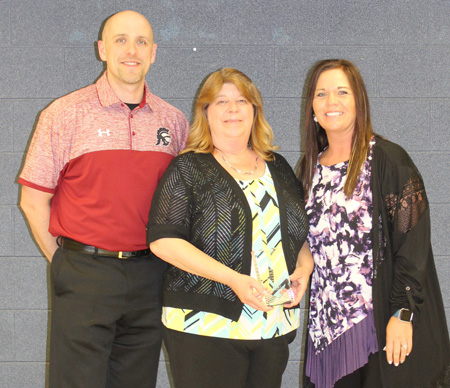 West Central High School principal Pat Culp with Sharron Riggs of Parkview Haven Retirement Community, nominated by Jennifer Johns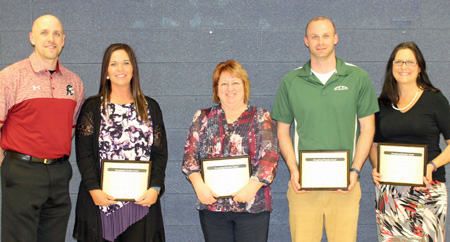 West Central High School principal Pat Culp with honored teachers Jennifer Johns, Stephanie Thilges, Tyler DeMoss and Joanne Stevens.
Teacher of the Year
Kim Rosenbaum, welding teacher at Twin Lakes High School is the teacher of the year from the 11 schools that comprise Indian Trails.
Counselor of the Year
Dana Kirkwood, from Delph High School is the counselor of the year.
Fifty-four teachers were recognized as the outstanding teachers in career and technical education. The teachers are instrumental in providing high school students opportunities to earn college credit as part of dual credit agreements with IVY Tech, Vincennes University and other post-secondary institutions. Teachers implemented industry certifications whereby students can earn certifications for Microsoft A+, American Welding Society, Automotive Service Excellence, and licenses from the state of Indiana as Certified Nursing Assistants and more.
Teachers are also active as advisors to career and technical student organizations such as Future Farmers of America, Business Professionals of America, Family, Career and Community Leaders of America and many more. Indian Trails is proud that many of our students have competed at local, regional, state and national levels.
Outstanding Career and Technical Education Teachers
Carroll - Cindy Rinke,Tyler Sausaman
Delphi - Judi Brummett,Jodi Dennison, Chico Hatke, Joan Kahl
Frontier - Melissa Culver-Pekny, Katie Pitts, Laura Rogers
Kankakee Valley - Traci Blanco, Steve Ganzeveld, David Hass, Lauri Holcomb, Meredith Hudecek, Steve Inman, Jeff Moolenaar, Greg Pulido, Ryan Standish, Christine Woods
North Newton - Barb Blasco, LeeAnn Eckhoff, Lisa Kazmierski
North White - Myrtle Collins, Kerri Lear
Rensselaer - Walter Brown, Sean Cawby,Dan Glotzbach, Michael Goad, Mark Heining, Brenda Mattocks, Ron Wamsley
South Newton - Bob Hays, Cheryl Link, Chris Moss, Angie Rhoads
Tri-County - Darla Harrington, Lou Salvadore, Travis Scherer, Ashley Steuer
Twin Lakes - Barb Alletto, Laura Bernfield, Scott Billings, Barbara Broedel, Emily Graham, Kyle Marsh, Scot McAtee, Becky O'Farrell, Kim Rosenbaum, Terri Roska
West Central - Bill Amsler, Tyler DeMoss Jennifer Johns, Joanne Stevens, Stephanie Thilges
Stradling concluded, "It has been a great year for Indian Trails. Our enrollment in CTE courses increased by over 400 students. Our students are earning college dual credits, industry certifications, and licenses. What a benefit to our students who can put all three things on a resume."