Crouch, Walorski speak at Lincoln Day luncheon
Saturday, 29 April 2017 21:49
FRANCESVILLE - Lt. Gov. Suzanne Crouch and U.S. Rep. Jackie Walorski were featured speakers at the annual Pulaski County Republican Party Lincoln Day luncheon Saturday, at the Cornerstone Event Center, Francesville.
Crouch gave highlights from the recently concluded General Assembly session, while Walorski reported on issues in Washington, D.C.
Both women paid tribute to the work of the local grass roots party workers and made observations to further energize the county's GOP.
Also attending the event were State Sen. Ed Charbonneau and State Rep. Doug Gutwein. All were welcomed to the luncheon by Pulaski County Republican Party chairman Daniel Murphy.
"The 2017 General Assembly session was a major success for Hoosiers due to the leadership of Gov. Holcomb and the collaborative spirit of the four legislative caucuses," Crouch reported in her keynote address. "In the 12 sessions I have been a part of; eight as a state representative, three as state auditor and now as Lt. Governor, I have never experienced such a civil and collaborative legislative session."
She noted that among bills signed were "Indiana's two-year 'honestly balanced' budget that maintains our healthy reserve balance and preserves our state's AAA credit rating. In addition, the governor signed an historic 20-year plan to fund Indiana's roads and bridges. The plan not only fully maintains our existing infrastructure, but it also finishes projects we have started and invests in the future of our great State."
Crouch noted that the U.S. Constitution is "not just a guide, but a guarantee of our rights," and "we should never let government get out of place."
She said she was "proud of President Donald Trump who is a leader in the White House who believes like us. With Jackie Walorski, Donald Trump and Mike Pence, we're going to see good things in our country."
She outlined many of Indiana's strengths in such areas as manufacturing, cost-of-living, and unemployment consistently below the national average.
"But we can't rest on our laurels," the lieutenant governor added. "we need to continue to build roads and improve education. We still have schools in trouble, and 1-in-5 Hoosiers suffer from addiction issues." She praised the state legislature for passing an "incredible amount of legislation" to fight the various types of drug addictions.
"What is truly great in Indiana is also great for the U.S. - its people. Government is not the answer, we are," she concluded. "Our community service should leave an example and a legacy."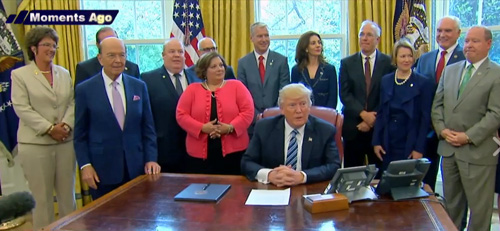 Walorski said she "never misses an opportunity" to visit Pulaski County, and couldn't be "more thrilled" to attend the luncheon, paying tribute to her former state legislature colleagues, Charbonneau and Gutwein.
"What do you think of Donald Trump?" she asked the party faithful to a round of applause.
"He is bold. What you see is what you get. He is so gracious," she noted, referring to a recent opportunity to join the president in the Oval Office for the signing of a presidential memorandum for the Secretary of Commerce on aluminum imports and threats to national security.
She also mentioned attending a briefing with other Congressional members on the situation with North Korea given by the president's top national security advisors. "I have full confidence in the team the president has put together," the congresswoman reported. "They are the best our nation has, such as National Intelligence director Dan Coats, Secretary of State Rex Tillerson and Secretary of Defense James Mattis."
Walorski stated the president's "stature and polling are higher in this district now than before the election . He's only been there four months and he's setting the world on fire. He has appointed one new judge to the Supreme Court, and there is the possibility he might appoint two more. That would set a conservative Supreme Court for our lifetimes."
Walorski praised the leadership in Indiana state government as well. "All ships are rising in this state. We do all things well."