PEAK breaks ground for new group home
Tuesday, 18 April 2017 21:57
WINAMAC - Peak Community Services recently held a ground-breaking for a new group home under construction on Washington Street in Winamac. An open house will be announced upon completion of the project.
The new home will replace the current residence on Main Street and will feature six bedrooms, three bathrooms, and lots of room to enjoy the outdoors.
The new Washington Street home is the first of two replacements in Winamac and one in Logansport.
The Washington Street home should be finished in time for clients to move in around September. The other two projects will commence within the next fiscal year.
Peak group homes are available for men and women who meet State Medicaid Level of Care requirements and have support needs that require 24-hour supervision and intense active treatment.
Peak Community Services (PCS), which dates back to 1955 in Pulaski County, provides opportunities for individuals with developmental disabilities to develop life skills that enable them to live as independently as possible and to become contributing members of the community.
PCS offers:
Employment services
PCS Industries services
Habilitation services
Community living services
Supervised group living
Family support services
Respite services
For more information about Peak, visit www.peakcommunity.com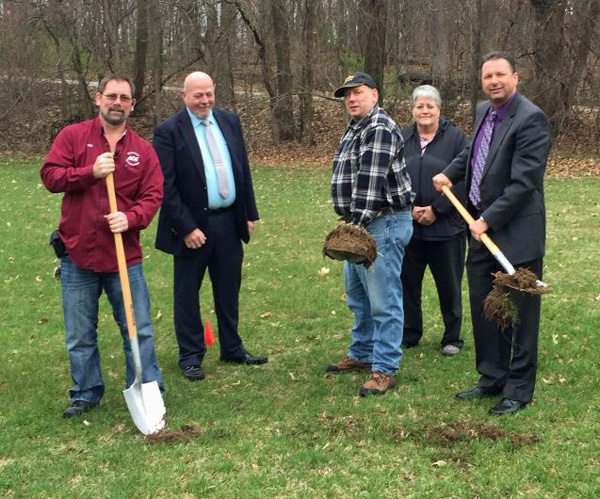 Peak Community Services recently broke ground for a new group home in Winamac. Participating in the event were (l-r) Peak board member Tim Wiegand, Peak Human Resources director Michael Haynes, Peak client Johnny Morlock, Peak residential director Jan Adair, and Peak CEO Chris Nabors.