Murphy elected to lead county Republican Party
Saturday, 01 April 2017 21:54
Lt. Gov. Crouch to keynote Lincoln Day Dinner
Daniel Murphy of Winamac was elected chairperson of the Pulaski County Republican Party at its reorganization meeting, held in March, at the Pulaski County Public Library, Winamac.
The primary focus of the meeting was to elect new officers to serve the next four years. Over 30 individuals from all over the county attended, including precinct committee members and members of the general public.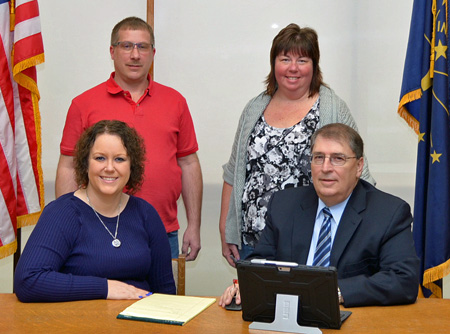 The officers elected to guide the party over the next four years were (front) vice chairperson Christi Hoffa and chairperson Dan Murphy; and (back) secretary Ken Boswell and treasurer Michelle Schmicker.
Christi Hoffa was elected vice chairperson, while Ken Boswell will serve as secretary and Michelle Schmicker as treasurer.
"The Republicans are excited about the direction the county, state and country are headed and are working on plans to keep Pulaski County a progressive and growing community," Murphy said.
The kick-off for the reorganized party will be the Lincoln Day Dinner to be held on Saturday, April 29, at the Cornerstone Event Center, Francesville, starting at 12 noon. Lt. Gov. Suzanne Crouch will be the keynote speaker.
Keep track of the Republican Party events and activities on the party's Facebook page at Pulaski County Republican Party. Anyone seeking additional information about the Republican Party or wishing to help the party move into the future should contact the party by email at This e-mail address is being protected from spambots. You need JavaScript enabled to view it .