Local volunteers attend CASA Day at statehouse
Friday, 24 March 2017 19:43
INDIANAPOLIS - Over 400 Court Appointed Special Advocate (CASA) volunteers, friends and supporters gathered at the state capitol for the Indiana Child Advocate Network's CASA Day at the Statehouse Monday (March 20).
This event marked the sixth annual CASA Day event in Indiana. Guest speakers included Indiana Supreme Court Justice Steven David and inspiring messages from CASA volunteers and CASA youth.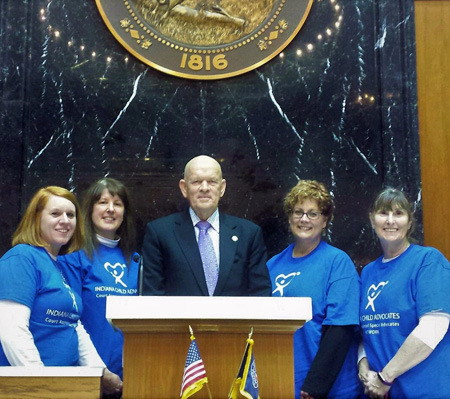 Pulaski County CASA representatives meet with State Rep. Doug Gutwein; (l-r) they are CASA director Sara Kroft, volunteer Kathy Abbott, Rep. Gutwein, CASA staff member Patti Ploss and volunteer LuAnn Cohn. Photo provided
According to Pulaski County CASA director, Sara Kroft, CASA Day at the Statehouse has a much deeper meaning. "Each year local victims of abuse and neglect enter the child welfare system. Unfortunately, that system, though filled with well-meaning individuals, is simply ill-equipped to guarantee that these children's best interest is the priority. That's why CASA volunteers play such a vital role."
Upon arriving in Indianapolis, the CASA volunteers gathered at the Indiana Government Center for an overview of the legislative process, and an update on legislation impacting the children they serve. After the update, the CASA volunteers walked to the statehouse for a noon rally in the North Atrium of the Rotunda.
CASA volunteers from Pulaski County met with State Rep. Douglas Gutwein, discussing tough issues dealing with the future of our local children in need.
"You can't help but admire these volunteers," said Kroft. "They really are a formidable force fighting for our kids. And they're not content just to stay at home. They're going to spread the word until everyone knows what's at stake."
Individuals interested in volunteering or learning more about CASA can call the Pulaski County CASA Program at 574-225-2227.
- Pulaski County CASA article
CASA volunteers rally for children still waiting
INDIANAPOLIS — About 6,000 children are waiting for someone to volunteer and become their court appointed special advocate.
Several hundred volunteers, lawmakers and judicial staff members rallied at the Statehouse Monday to help raise awareness for the state's Court Appointed Special Advocates, or CASA, program.
"The really unique thing about CASA — our volunteers are here because they choose to be here. It's not their job," Annette Craycraft, executive director of East Central Indiana CASA, said.
The Indiana CASA is the second biggest network in the country with over 4,000 volunteers in 79 of Indiana's 92 counties.
CASA volunteers advocate for abused and neglected children to ensure they don't get lost or overwhelmed by the court system. Volunteers stay with the child until his or her case is closed and the child is placed in a safe home.
Craycraft has been with CASA for 12 years and still remembers the first time she took on A case.
"It's very nerve-racking at first," Craycraft said. "At first, you are given a lot of responsibility and commitment to this child that you have never met before."
But the children can sense that a volunteer wants to help them, Craycraft said. With social workers and service providers often moving in and out of their lives, the stability is a huge comfort.
"Most children really open up and start talking to you," she said.
Volunteers spend 10 to 15 hours a month to their assigned child. Each court case with each child generally lasts a year.
"Giving an hour a week is more than what some kids get from their parents," Danielle Bell, a staff member who handle tough cases, said. "SPCA is asking a dollar a day for animals, so why can't children get an hour a week from a volunteer."
New Pulaski County volunteer Patty Ploss joined after seeing a CASA ad on Facebook.
"It's always been something I have wanted to do after seeing these kids in bad situations," Ploss said.
Article writer Kayla Walker is a reporter for TheStatehouseFile.com, a news website powered by Franklin College journalism students.