CNBC Prime to launch first reality series
Thursday, 28 February 2013 15:25
Show features Winamac's Catherine Knebel
ENGLEWOOD CLIFFS, N.J. - CNBC Prime launches its first reality series Tuesday (March 5) with the premiere of "Treasure Detectives" at 9 p.m. One of the show's "detectives" is Winamac's Catherine Knebel.
"I'm blessed to be in this situation," Catherine said in a telephone interview with the Post from Los Angeles where she was just finishing taping the eighth episode of the series. "It is fun to be out here, but it is very hard work."
Treasurer Detectives is a show that takes viewers deep inside the world of arts, antiques and collectibles and asks the question: is it a fake or is it worth a fortune? Produced by Endemol USA, the eight-episode series introduces world-renowned art detective Curtis Dowling and his team of investigators whose clients may be the victim of elaborate hoaxes.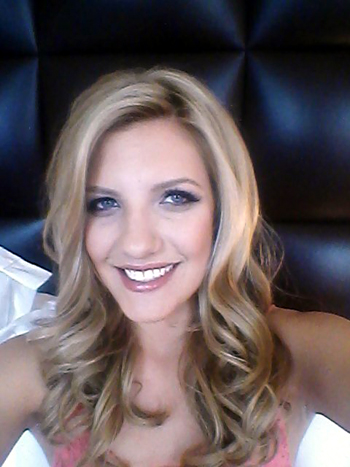 Catherine Knebel ("all dolled up" - in her own words) for the Feb. 28 New York CNBC Prime launch party and premier of "Treasure Detectives."
In this one-hour weekly show, Dowling and his team dig into the history of potentially counterfeit items using high tech science. Each week, the "Treasure Detectives" team meets collectors and verifies the authenticity of collectibles, artwork and antiquities using innovative technology and street smarts to determine whether they're sophisticated forgeries or extremely valuable collectors' items…answers that could cost or earn owners a small fortune. They trace not just where an item came from, but how it was made…and in many cases, how it was faked.
Knebel serves as Dowling's research assistant. Andy Smith is the third member of the team. Catherine says that Dowling and Smith have worked together for a long time in London.
Catherine grew up on the family dairy and Angus cattle farm west of Winamac, and often attended estate and farm auctions with her parents where she learned to share her family's interest in antiques.
"I love the history of antiques," she said over the phone. "It is a great passion of mine and now I'm learning more from the experts."
Knebel is a graduate of World Wide College of Auctioneering in Iowa, and in 2012, was a top-five finalist in the Indiana Auctioneer Championship Bid Calling Contest. She is a also a graduate Purdue University, and Winamac Community High School (in 2009). Her parents are Dan and Jennifer Knebel.
She was "discovered," in something of the legendary Hollywood tradition, at her auction school. A casting company representing the CNBC show contacted the college seeking a candidate who might serve as one of Dowling's team members. The auction school recommended Catherine, and following interviews and looking at her auction videos, she was eventually selected for the role.
Catherine is also a well-known singer in the local area, teaming up with her brother Garrett in the band "Strings of Aberdeen" and with Brent Evans of Rochester in the "Jhonny and Sallie Show." In high school she was an active member of the highly-regarded WCHS drama department under the direction of Patrick Schuttrow.
Catherine says her singing and acting experiences have helped her feel comfortable working on Treasure Detectives and given her confidence to perform well.
"One of the show's producers really reminds me of Mr. Schuttrow, always calling out for us to show 'energy' and drawing us out to give our best," she said.
"This is a reality show, so there's not much acting," she continued. "I'm supposed to be myself. The show is not scripted, but we know ahead what we will be doing. With cameras in our face, it sometimes feels like we should have lines; we have to watch not to talk over each other."
Catherine reports she began taping of the show in mid-November. There have "been lots of schedule changes," so her workdays sometimes run from 5 a.m. to midnight. This includes doing all her own hair and make-up for the show - something she enjoys and is also experienced at.
Knebel says she has had a good experience in her first foray into television in Los Angeles. "I've heard the stories about cut-throat competition, but I haven't experienced that. I'm working with a good group who have been taking care of and looking out for me." Her mother Jennifer also spent a few weeks with her in California in January.
Catherine flew to New York City Thursday to attend the premiere event for the show Thursday evening (Feb. 28) with CNBC.
She then plans to return to Winamac and watch the first episode Tuesday night at home with family members.
"TREASURE DETECTIVES" – PREMIERE EPISODE
Airing Tuesday, March 5 at 9 p.m. on CNBC
In the premiere episode, Dowling and his team meet a collector who believes he purchased a rare Lalique glass automobile hood ornament for only $1200. If it's authenticated, it could go at auction for hundreds of thousands of dollars.
The "Treasure Detectives" team meets with a long time art collector who believes he has a valuable Roy Lichtenstein print. If it is the real deal, he is going to trade it for a face-lift from a prominent art loving plastic surgeon.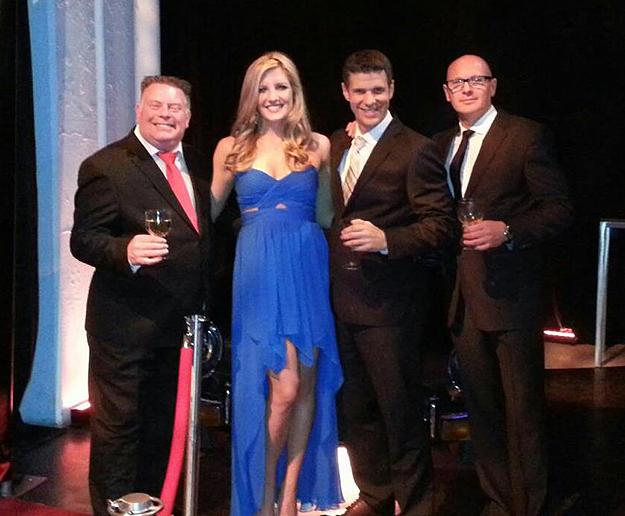 Treasure Detectives: CNBC Prime launches its first reality series Tuesday (March 5) with the premiere of "Treasure Detectives" at 9 p.m. One of the show's "detectives" is Winamac's Catherine Knebel.
A launch party for the series was held Thursday evening in New York. Shown at the event in this photo are cast members Andrew Smith (left), Catherine Knebel and Curtis Dowling (right), and co-executive producer Curnal Aulisio.